The basics
Our brand new browser console has a number of core features which we'll show you on this page. Here's a quick guide to each part…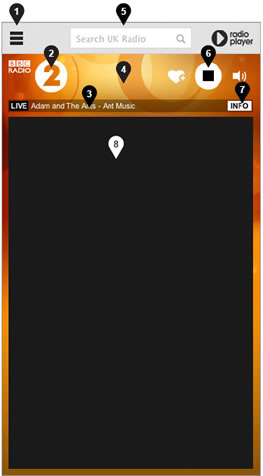 1. Menu button
2. Enlarged area for your station logo (220×50 max, 180×50 recommended)
3. Now Playing Ticker – also doubles as a seek bar for On Demand content.
4. Your station branding – background images and solid colours all welcome.
5. Super-charged Search
6. Brand new transport controls with innovative volume control and favouriting functionality
7. Song Actions
8. Plugin space – all yours and fully compatible with v2 consoles.


The all-new Radioplayer menu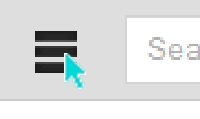 Click the menu icon and uncover a clean, clear tabbed interface which lets users see their station favourites and recent listening history. We also show users Recommendations and the A-Z list of all stations in Radioplayer
Recommendations
We've introduced Recommendations to the browser player. This feature is already popular in our mobile apps and recommendations are machine-generated, not editorially picked. It's based on the user's listening history, what's hot right now (based on station launches across Radioplayer) and where the listener is in the country. Make sure you've added your geographical footprint to your station profile in the Station Control Panel.
My Stations now easier to manage
As well as making it easy to add a station to a users favourites, it's easier to manage these. Across all of the tabs, you can add and remove favourites by clicking the heart – even from search results and recommendations. In the My Stations tab, users get an at-a-glance view of what's on, across their presets and can edit the list in situ.
New listen history list
Most radio listeners are creatures of habit who listening to a small number of radio stations, a large number of times. To make it easy for those listeners to get back to their favourite stations, we've also now enhanced the Last Station Listened feature in the old player, and store a listen history of up to 15 stations.
New UI, new transport controls
The whole player has had a facelift with a brand new, contemporary look-and-feel. Users can now easily add the current station to their favourites, just by clicking the heart. The transport (playback) controls are now common across all products we've released this year – and future ones. The player also features a Now Playing ticker. If you send track-now-playing metadata to Radioplayer, we'll show it here. We can also automatically extract it from your stream if you use RTMP (more codecs coming soon). We've also enhanced the Now Playing ticker for on-demand content, allowing users to easily seek through the content they are listening to.
Super-charged Search
Search has been updated, to make it clearer for users. As you type, automatic suggestions are shown which give users some 'best bet' options. Hitting enter or clicking the search icon, returns a full result set. These results can be divided into Live Station and On Demand results, to get users to the content they want fast.
Song actions, overlays and interstitials
Want to link the track now playing, to iTunes or another mp3 store? Song Actions allow you to do this. You don't have to link to a shop – it could be a Wikipedia page, or an artist page on your main website. Want to monetise your player? You can show an advert in the Radioplayer popup before the user reaches the player itself – it's called an Interstitial and you can enable it in the Station Control Panel. Or if a 'roadblock' like that is more than you need, then why not try an Overlay? A panel can be set to load over the top of your plugin space and an advert can load in it – it can even mute the audio if you want to show a video ad.
Plays on iPad
It's now possible to play stations on iPad devices, so long as you provide an HTML5 compatible MP3 stream. And it's not just iPad's which get the upgrade – any device or browser which doesn't support Flash but does support live streaming in HTML5 will be able to pick up this new benefit. This means a bigger reach for your station.
Browser performance upgrades
The player supports a full range of browsers including IE7-10, Firefox 3.6+, Chrome and Safari 5-6 on Windows and Mac as available, as well as Safari and Chrome on iOS, as mentioned, and the Android Browser. With all those browser/OS combinations, the player is designed to offer a simple core set of features and will progressively enhance the experience depending on the capabilities of the device. All that means is that we've optimised the experience for each browser/OS/device we support. We've also added some code optimisations that will benefit all users.
Accessible and localisable
The new browser player has been updated to make it much more accessible (compliant with the BBC's stringent guidelines). It's also got internationalisation features built in for stations providing non-English services. Stations needing this feature can find out more in the integration guide.